Writings
Histories
Networks
Archive 1
Archive 2
Archive 3
Archive 4
Archive 5
Links
Shop
Socially engaged arts
In complex ecologies of learning
' BRIDGING THE GAP '
'Bridging the gap' was part of the Generations Together project Led by Andrew Henon for Somerset Film as part of the Company of Voices initiative to tackle perceived and real cultural issues of intergenerational working
The 'Making of bridging the gap' video provides valuable insights into the creative making of the film. A process as experienced by young people it is their own story and focus for reflection it is the 'Living Educational Theory' aspect to the work that brings insights into how attitudes can change through a process of engagement.
Dynamic Flow Forms
Andrew Henon
A Socially Engaged Fine Art Film
Produced as part of the artist in ressidence with nesa in 2008 - 9
Environmental issues have been of serious concern to me since 1977 and even as a child watching the television coverage of environmental disasters affected me deeply. As a teenager I created the paintings below.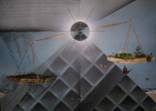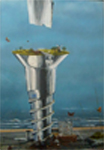 Some examples of early work 1978 - 1980
Surreal issues based work
Painted in acrylic and spray paint on board here is a description of one of the paintings
From left title 'In the balance' a pair of scales of ballance with a CND insignia centre as the fulcrum in the left hand scale pan polluted industrial landscape, the smoke from which forms an ominious cloud held back by the light through the CND lens which eclipses a bight white sun. In right hand scale pan allternative landscape with solar, wind, hydro and bio power. The pyramid form refers to ancient technologies and Glastonbury Festival. In the far distance a sea roles in waves on to the shore. The butterflies fly from left to right originall painted with the earth lower left and moon lower right. The panting was later trimed in 1992 as part of work on the Spatial Design Course at Bournemouth where it was re presented with a new body of work
NEWS
We welcome your comments, support and feedback for the developmen of this site.
I am currentl;y working on the APEX book of accounts and peoples stories see living Legacies website
Please see current twitter, Linked in and wordpress blog for conversations, dialogues and networks click on the bottom of the page or click from the index on left
Here are some other key sites of interest to visit
The Living Learning website has details of participants in APEX programmes afirmations to continue working together.
The seminal wesite pressence of jack Whitehead and 'Living Educational theory can be found at Action Research
From here you can access the work of Morag Kiziewicz
You can contact Andrew here by e-mail click on the image below